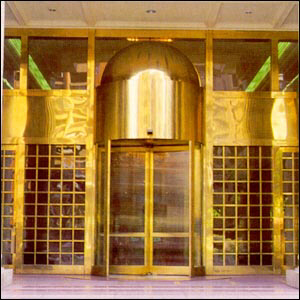 Titanium Colored Finishes for
Stainless Steel

We have combined the best of both worlds – the rich colors and beauty of gold, brass, bronze and copper, with the corrosion resistant properties of stainless steel, into an everlasting low maintenance product. Polished stainless steel is no longer confined to the silvery brushed satin, or mirrored chrome look.

The Technique:

The process of PVD, or Physical Vapor Deposition of titanium (Ti), onto the stainless steel surface provides an abrasion resistant coating which is up to100 times that of normal stainless steel substrate. Titanium Nitride (TiN) coatings have been utilized in the tooling industry to extend the life of drill bits, to reduce friction and to enhance resistance to the effects of corrosion.

The Advantages: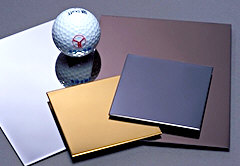 These are superior color coatings that will outlast any other known coloring process. Titanium colored stainless steel does not require a lacquer coating to maintain it's color and it is UV and corrosion resistant. It will not dull or tarnish.
Titanium colored stainless steel is available in gold, rose gold, rose copper, brass, brown, bronze, black or charcoal grey. Ti PVD clear hard coatings are also available for satin, Hairline or mirror finishes, with or without etched designs.

Click here to compare our Super #8 finish to our competitor's.

---

Specifications:


1. Substrate: ASTM A666 Type 304 or 316 stainless steel.
---
2. Thickness: select from 0.031" (0.8mm); 0.039" (1.0mm); 0.047" (1.2mm); 0.059" (1.5mm); or 0.079" (2.0mm).
---
3. Finish: No. 4 Satin, No. 6 or Hairline, True #8 mirror or texture etched designs on No. 4, No. 6 or True #8 mirror.
---
4. Sheet sizes: standard: 4' (1219mm) x 8' (2438mm) and 4' (1219mm) x 10' (3050mm). Maximum length: 157" (4000mm). Maximum width: 48" (1219mm).
---
5. Titanium colored sheets with True #8 mirror finishes are shipped with double protective vinyl films (6 mil thick). Satin, brush and Hairline sheets are shipped with single protective vinyl film (3 mil thick).

Home Page The Company Products Contact Us E-mail Next Page